Heather Gunther created KeyRing to bring a personal touch and professional expertise to the world of online bookkeeping. With over 20 years of experience in the bookkeeping and accounting field, she started KeyRing over seven years ago when she saw the benefits that cloud computing would bring to her clients.
With a focus on creating an exceptional client experience, Heather combines the collaborative nature of traditional on-site bookkeeping services with the timeliness and customization available with online accounting tools. Heather is highly experienced with various accounting software programs, as well as being a Xero Certified Advisor and a QuickBooks Online Certified Pro Advisor.
"I enjoyed helping business owners unlock the powerful information hidden in their books and realized that I could help more businesses succeed by starting my own company, thus in 2010, KeyRing Business Solutions was born." – Heather Gunther
Meet Heather, Your Online Bookkeeper
Here, Heather discusses her start in bookkeeping and some of the most exciting parts of being an online bookkeeper.
Describe your background, first job, early experiences.
I got my start in the egg industry, while I was still in school. It was my first major accounting position – I worked with an egg distributor for six years, taking on larger and larger roles as time went on. In that small and close environment, I was exposed to many different types of business activities and got to see the big picture of business. The size of that company was this great sweet spot: large enough so I could see what a successful company could grow towards but small enough that I was able to interact and learn from everyone from the receptionist to the CEO.
The bookkeeping and accounting processes at this company were fully-realized in a high-functioning system. When I moved on to handling the bookkeeping for a communications startup, I learned how to navigate and enhance a system that started with very few processes in place. The service-based company was a smaller size, with people constantly switching hats and putting out fires. It was a great way for me to experience how business ownership progresses – from simply "we have to get through this next month" to a more mature, methodical approach. It was there that I started realizing I had a lot of my own ideas of how things could be better, how I could help business owners help themselves with the right tools and practices in place.
A defining moment in my career was when I realized how much of a difference it makes for business owners to have actionable, timely, and refined accounting information. When companies invest in bookkeeping, realizing it as a decision-making tool for their business (instead of just as a function of needing to get their taxes done), they feel empowered to make decisions.
Why did you start your own business?
I began to realize how process-based the bookkeeping industry itself is, and I noticed that I was seeking out more challenge when it came to creating those processes. I like to continually refine the wheel depending on the circumstances. It became apparent to me that I wanted to work not just for one company, but a variety of businesses and owners in different spaces.
Now I have the opportunity to just that. Being able to find solutions to their unique or common pain points has been extremely rewarding.
The thrills and challenges of owning my own business give me first-hand knowledge of what other small business owners face. I'm able to see both "sides" of bookkeeping, from the perspective of the bookkeeper aggregating information, and from the perspective of the business owner as consumers of that information. I've built my company so that we support our clients as I would want to be supported as a small business owner myself.
What does a typical day of bookkeeping activities look like for you?
A day in the life of a bookkeeper is very routine. We love processes! For example, I review the books and prepare financial statements to discuss with my clients at the end of every month. I review all source documentation (financial information from banks, etc.) and check that entries are made to ensure completeness and accuracy (based on the business owner's input).
Additionally, I review client's revenue or spending trends, create custom reports, or review new technology solutions for clients needing those services.
Most people think of bookkeeping like it's a trip to the dentist: something they have to do for tax purposes. When we work on our client's books, we make sure that information is useful to their CPA or tax preparer, and, most importantly to the business owner, that their business's books can have meaning to them, too.
What do you like to do on your days off?
In my rare spare time, I like to spend time with my family and visit state and national parks with my husband Otto and our dog. Our latest outing was to the lovely Red Top Mountain State Park in Cartersville, GA.
Contact Heather to Learn More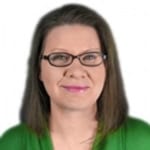 Whether you are needing your existing bookkeeping cleaned-up, looking for bookkeeping and accounting help or want some additional training for you or your staff, contact Heather today to learn more about how we can help.
At KeyRing, we leverage trusted financial services platforms like Xero and QuickBooks Online to help you find crucial information hidden within your financial data. Combined with the collaborative app ecosystem that each accounting platform offers, we can tailor make a financial platform that tames your data and empowers your business decisions.